"HAS MEDIA LITERACY REACHED ITS CRITICAL POINT?"


22.03.2021. Plkst. 14.00-15.30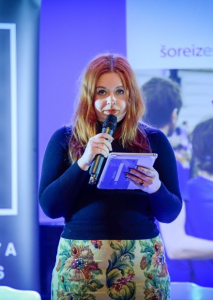 Linda Curika
Linda Curika is a communication expert who is interested in how to tell complex things easily. In her day-to-day work, she brings together communication experts from academia, the private and public sectors to work together to develop a better understanding of strategic communication, misinformation and media literacy. Linda manages the communications of the NATO Center for Excellence in Strategic Communications and is responsible for publishing the academic journal Defense Strategic Communications in Latvia.
---
---
---

Lauri Palsa
Lauri Palsa (M.A.) is a Senior advisor in the National Audiovisual Institute, KAVI, in Finland. He has several years´ experience in researching, developing and promoting national media education in Finland. He is the co-author of the Media literacy in Finland. National media education policy. Currently, Palsa is finalising his PhD dissertation in the University of Lapland. His research interests focus on the contextualized literacies in the digital mediated world,  curriculum research and media education.
---
---
---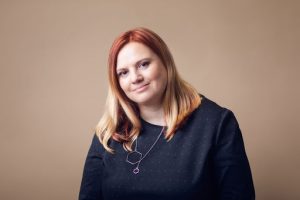 Andra Siibak
Professor of Media Studies and program director of the Media and Communication doctoral program at the Institute of Social Studies, University of Tartu, Estonia. Her main field of research has to do with the opportunities and risks surrounding internet use, social media usage practices, datafication of childhood, new media audiences and privacy. She has gained international experience while filling different academic positions in a variety of cultural contexts, e.g. been a post-doc in Sweden, guest-researcher in Denmark, Fulbright scholar in the US, and a visiting guest-professor in Italy, Latvia and Lithuania. Andra has engaged in various international research projects and networks (e.g. EU Kids Online) and acted as expert consultant on Estonia for projects initiated by the European Parliament, European Commission, European Council and OECD. She has been awarded with the Young Scientist Award by the President of Estonia (2015), and the Outstanding Young Person of Estonia (TOYP) award (2017).
---
---
---
"BE QUICK, SCIENCE!"

23.03.2021. Plkst. 12.30-14.00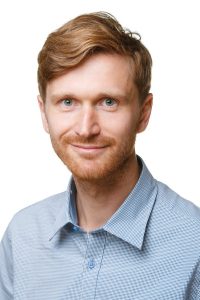 Kristaps Jaudzems
Studied chemistry and chemical technology at Riga Technical University (RTU), where he obtained a bachelor's degree in 2006 and a master's degree in 2008. He continued his doctoral studies (also at RTU), during which he did 2 years of internship at the Scripps Research Institute (TSRI) in the US state of California, Nobel Prize winner prof. Kurt Witchrich's laboratory, conducting research in the field of structural genomics. In 2011 he obtained a doctorate in chemistry. In the following years he worked as a leading researcher at the Latvian Institute of Organic Synthesis (OSI), as well as a visiting researcher at TSRI, the Australian National University and the Lyon High Field Nuclear Magnetic Resonance (CRMN) Center in France. In 2015, she obtained a European Union Marie Skłodowska-Curie Individual Grant for Research CRMN for the development of new methods for determining the structure of viral capsids. Since 2017, he has been the head of the OSI Physical Organic Chemistry Laboratory and since 2021 – a professor at the University of Latvia. His research interests include the study of the molecular mechanisms of the action of emerging drugs and the study of the structure-function relationships of spider silk proteins with the aim of creating new drug candidates and new biomaterials.
---
---
---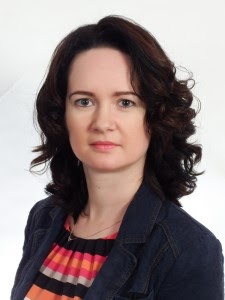 Linda Mežule
Associate Professor of Riga Technical University and Leading Researcher of the Water Research and Environmental Biotechnology Laboratory. Co-author of more than 40 international scientific publications in the fields of environmental biotechnology, water engineering and microbiological quality assessment. Since 2005, he has been actively participating in various international and local scientific projects. Currently, the scientific leader (project coordinator) in four projects related to the development of new technologies for resource reuse and environmental biotechnology. Supervisor of bachelor's, master's and doctoral theses for students from the fields of natural sciences, environmental sciences and engineering. RTU Young Scientist of the Year 2017, co-founder of biotechnology company "Conelum".
---
---
---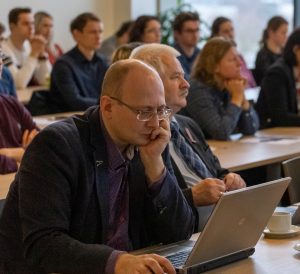 Dāvids Fridmanis

Dr. Biol. Dāvids Fridmanis – leading researcher of the Latvian Biomedical Research and Study Center (BMC), head of the G-protein-coupled receptor and human microbiome research group, director of local infrastructure development issues.His research activities at BMC Dr. Fridmanis started the millennium at the turn of the year as a first-year student at the Faculty of Biology of the University of Latvia. These first studies were performed by Dr. Jānis Kloviņš and Uppsala University prof. Helgi Schiöth and includes molecular and functional studies of melanocortin receptors. Being methodologically versatile and interesting, they still play an important role in his scientific work today. The beginning of the two thousand years was a significant time in science, as the "Human Genome Project" and development in the field of genetic research around the world were approaching the final phase, such activities were also started in Latvia. In order to create a "State population genome database" and to develop the infrastructure of genetic analysis. As a result, both of these infrastructures were merged under the auspices of the BMC Genome Center, which was headed by Dāvids Fridmanis for the last 10 years. This close connection with genetic analysis technologies, the rapid development of large-scale sequencing technologies, and the growing understanding of the role of microbiomes in the human body inspired Dr. Fridmani also started research in the field of human-microorganism interactions. Research has been underway in recent years, convincing him that major sequencing technologies and the versatility and limitations of use apply only to researchers' thought flights, for example, Dr. Fridmanis considers it his duty to use these technologies as widely as possible in biology and medicine on Sunday.